Artificial Turf & Synthetic Grass Pricing:
---
(not so) Fine Print
*

Low Price Guarantee
:
Turf by Design will beat any
local (Metro Denver) competitors pricing on the same 1st quality unused products with a warranty. If we can't beat the price, we will pay you $50.00 upon your completed purchase and verification of product with the manufacturer. The competitor must provide you with the manufacturers roll number and warranty and they must be a licensed retailer in the state of Colorado. We reserve the right to discontinue this program at any time.
---
Same Day Shipping, Factory Direct Pricing, and Installations are Available!
---
---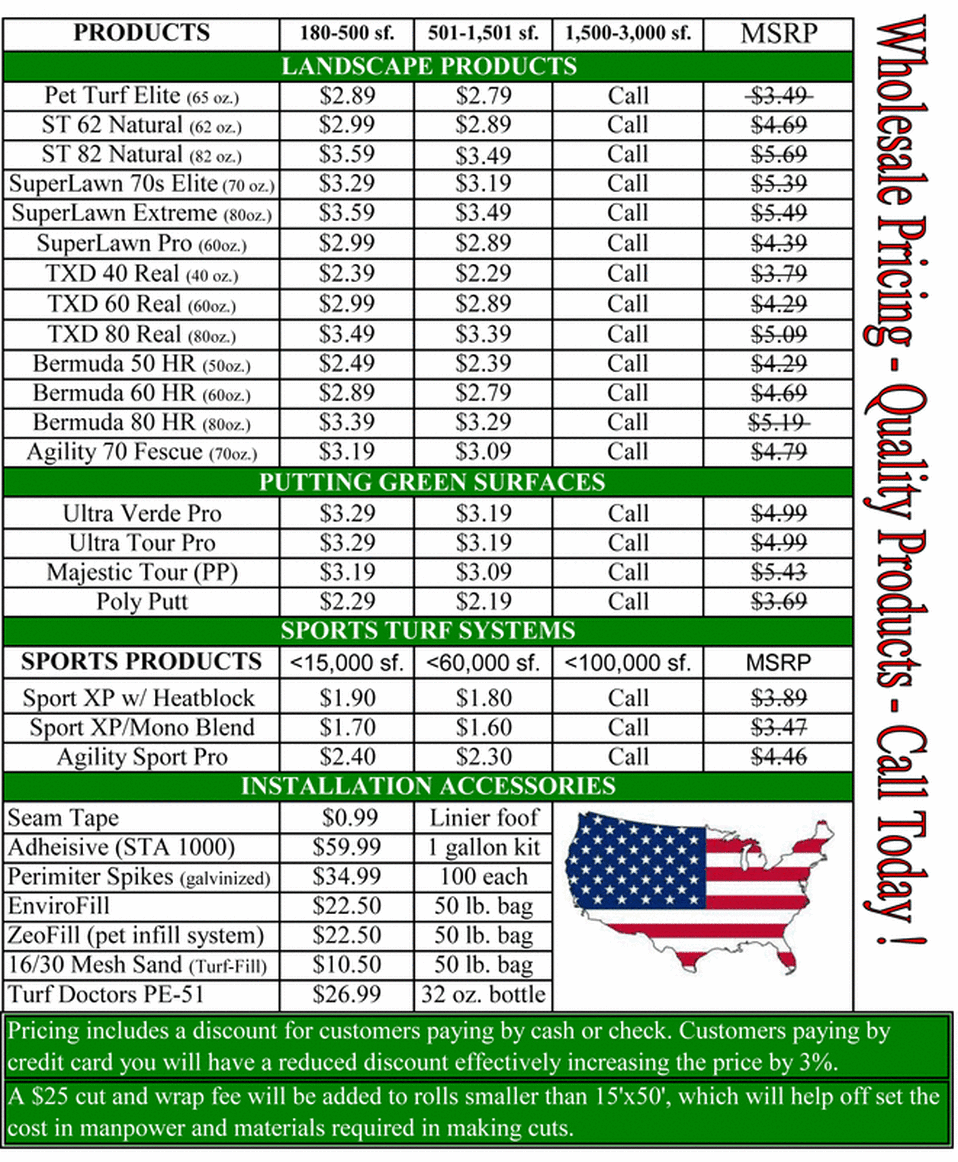 ---
---
Why should I choose Turf by Design?
Turf by Design is your manufacturer direct, wholesale artificial turf supplier, we can save you valuable time and money using our expertise to create the best products at the greatest value. All of our made in the USA products are engineered with the finest and most durable materials on the market so you can be assured that you are getting the best products for the best price.
With numerous other brands on the market Turf by Design takes all the endless research and guesswork out of the equation!
Does Turf by Design offer professional installation services?
Yes, Turf by Design provides you with complete professional wholesale product pricing and installation services performed by trained and certified installers. This allows us to maintain a consistent high level of quality. We stand for integrity and are committed to installing the best product at the lowest cost possible. There are many companies in the synthetic grass market; none offer the level of quality and service that Turf by Design can provide. Turf by Design is a reputable company that is licensed and insured with over a decade of installation experience.
How do I get an estimate for my home or business?
Each synthetic lawn, putting green, or sports field is different so Turf by Design prices each project individually based on turf type, required ground preparation, size, and numerous other factors. For exact costs, Turf by Design comes (free of charge) to your home or business and shows you all the different types of grass we offer and provides an on site estimate.
Contact us for details!
Can I install Turf by Design Synthetic Grass myself?
Yes, Turf by Design synthetic grass can easily be installed by following our
professional installation guidelines
.
Can Synthetic Grass add value to my home or business?
Yes, the uses synthetic grass in a low maintenance landscape design can add to a property's value. It eliminates lawn maintenance fees and significant decrease water consumption. EXAMPLE; mowing, watering, fertilizing, chemicals and pesticides, over seeding, and water irrigation equipment installation and maintenance.
Learn more...
What should I expect during the installation process?
You should expect the absolute best. Turf by Design's owner (Jason Hoza) will be on site for every installation to make sure the installation process to go smoothly, efficiently, and on time. You can expect that and more in your partnership with Turf by Design's certified installation team; a courteous crew that puts 110% effort into each task, and a work site that is cleaned up at the end of each work day. We are dedicated to you, proud of our work, and the best in the business!
What is the life expectancy of my Turf by Design synthetic lawn?
Turf by Design products are installed across the country and are proven to maintain their appearance and withstand the harshest conditions for up to 25 years.
What is my return of investment with synthetic grass?
The Return of Investment is Easily Recovered Within 3-4 Years when you Convert your High Maintenance Natural Grass Lawn into a Beautiful Low Maintenance Turf by Design Synthetic Grass Lawn!
Natural vs. Synthetic Grass
Please read our shipping policy.
Turf by Design offers same day shipping but it may take 5-10 business days depending on your location and scheduled delivery availability.
---