With Turf by Design synthetic pet grass, your dog's urine drains right through and the surface will not pick up any odor or discolor the lawn. No more having to worry about dead spots in your lawn! When you have an artificial lawn, you and your pets can use it any time. There is no down time for mowing, trimming, maintenance, watering, or fertilizing. Dogs love its soft feel on their paws. Turf by Design pet grass combined with our
ZeoFill
infill will absorb frustrating pet odors leaving your new lawn virtually maintenance free! You can have a yard and a pet after all! Continue reading about
ZeoFill
!
---
CLICK ON THE IMAGE BELOW FOR ARCHITECT SPECIFICATIONS AND PRODUCT DETAILS!

---
Artificial Turf Infill & Deodorizer

ZeoFill is 100% Natural & Non-Toxic

Not all Zeolites are Created Equal. Our ZeoFill is 98% Pure!

(beware of low quality Zeolites)


ZeoFill® is the #1 choice for synthetic turf infill for pet owners. The infill is spread down into the turf fibers to help the blades of grass stand up so they don't have a flat appearance. It also protects the grass backing from ultraviolet rays which could eventually cause damage and void warranty's. Some artificial grass infill options are silica sand, Envirofill, or crumb rubber. ZEOFILL can be installed below or on top of all these infill options to help control the odors.

ZEOFILL is recognized as the best all natural artificial grass infill. When used on artificial or synthetic lawns it neutralizes the ammonia in pet urine and eliminates the odor. It is recommended to use all ZEOFILL as your infill on top of the turf when medium to large sized pets are going to urinate on the turf. ZEOFILL also retains water longer than other infill products and helps to keep the grass up to 20 degrees cooler.

Most Artificial Grass companies use silica sand or crumb rubber for top fill on their artificial grass. These products have serious and inherent health issues. ZEOFILL totally eliminates all health concerns related to silica sand and crumb rubber. ZeoFill is safe and its earth tan color looks like natural soil on any Artificial Grass or natural grass. ZeoFill has the unique ability to neutralize ammonia and therefore is excellent for reducing or eliminating dog or cat urine odors in the artificial or natural grass.

Turf Doctors PE-51"Smells like Fresh Cut Grass" Save Water!!! This is the Most Powerful Enzyme Cleaner Available.

Turf Doctors PE-51 is

made with "LIVE" enzymes that control pet and urine odors.

Simply attach your hose directly onto the nozzle, turn the nozzles valve to the "on" position and spray your turf making sure you completely cover the artificial grass surface. Instantly your turf will smell like fresh cut grass... no more pet odors! 1 bottle covers approximately 1,8oo square feet.

Turf Doctors PE-51 is also:

Specially Designed for Artificial Turf

Smells like "Freshly Cut Grass

---
What's the difference between Artificial Turf infills?

---
ZeoFill

All Natural
Organic
Non Toxic
Natural earth tan color
Odor Neutralizing
Retains 55% of its weight in water
Remains 20 degrees cooler when wet (up to 22%)
Great for Pets and Kids

Envirofill

Envirofill is completely encapsulated so it cannot absorb odors, moisture, bacteria.
Acrylic coated silica sand

Green / Black (natural color)
Non Toxic
Antimicrobial properties
Easy Installation / Will not compact
16 year product warranty

Silica or Natural Sand

Retains heat in the summer
Natural tan color
Great for landscape turf and putting greens
Advises avoid breathing the fine silica dust during installation
Sand with sharp edges will damage the turf fibers

(use only approved sand)

---
Got Questions? We've got Answers!
How does ZeoFill work?
ZeoFill is a negatively charged honey-combed molecular structure which absorbs the urine bacteria and prevents the ammonia from forming a gas which is the main cause of smell. ZeoFill Infill will pull the urine gases towards itself like a magnet and hold it until sodium ion (Na+) in rain water will flush out the zeolite, forcing it through the turf into the ground making your turf virtually new again. The sodium forces the calcium ions out and recharges the zeolite when dry. With ZeoFill there is no need to water the grass once a week to wash away urine smell.
How many pounds of ZeoFill do I need on my artificial grass to help control my dogs urine smell?
For the product to work efficiently to help control odors, it depends on the size of the animal.
For dogs 5 to 45lbs we recommend using 1 pound per sq ft on top of the turf.
For dogs 50 lbs and more, ZeoFill recommends 2 pounds per sq ft One pound under the turf and One pound on top of the turf.
How many square feet does One 50lbs bags cover?
Small dogs up to 45lbs- One 50lbs bag covers 50 sq ft.
Large dogs 50lbs or more- One 50lbs bag covers 25 sq ft.
Multiple Large dogs- One 50lbs bag covers 15-20 sq ft.
How often do I need to replace ZeoFill?
Typically - Never. This is a one-time application infill if the proper amount is used on top of artificial grass. But if you have a few large dogs and only a small section of artificial grass, then if smell starts to accumulate, you might have to remove the infill and install a fresh batch of ZeoFill. ZeoFill can hold only 55% of its weight. If urine is saturated for a long period of time, then the negative property ZeoFill will not be able to hold the gases.
What if my dog eats the ZeoFill? What will happen?
If you dog eats ZeoFill, it will detoxify your dogs body by removing any metals from its body within 5 hours. You will have one healthy dog. ZeoFill sells to companies who feed horses, pigs and cows ZeoFill to help digestion and a finer mesh for horse medicine.
How long can ZeoFill hold the ammonium in its honeycomb cavities?
Because ZeoFill holds 55% of its weight and is a negative charge property, the urine will recharge itself when dry. Majority of the time it will hold the gases until the acidities in rain water flush out the ammonium completely. Nitric acid in rainwater forces the ammonium out of the ZeoFill and into the ground. Once dry, ZeoFill will continue to hold any gases from escaping. Rainwater is naturally acidic due to the presence of carbon dioxide, nitric oxide and sulfur dioxide found in the Earth's troposphere.
We don't get much rain, can I flush out the ZeoFill by hosing it off?
ZeoFill works better dry and only rainwater will completely flush out the Zeolites .
Is ZeoFill a better solution than purchasing a liquid turf deodorizer?
ZeoFill is a natural negative property product which holds the ammonium bacteria gases from escaping.
EXAMPLE: Flowers are positive which gives out a smell. ZeoFill is negative which holds smell in.
Liquid Turf Deodorizer just covers the ammonium bacteria with a cleaning solution which may last only a few weeks.
Can I use ZeoFill on my real sod?
Yes, because it is a 100% natural organic material, it won't hurt live plants. Natural grass is grown with soil, therefore ZeoFill will work its way into the soil and disappear. In artificial grass, ZeoFill will stay in the thatch fibers of the turf as long as the turf is on the ground. The thatch in the turf will hold the zeolite in place.
What is ZeoFill / Zoelite?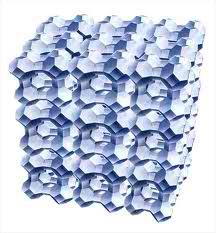 Zeolite is a porous, honeycomb like molecular structure allows it to accommodate and assist in the exchange of cations such as Na+, K+, Ca2+, MG2+ as well as several others. This unique molecular sieve quality of zeolites allows the positive ions to be readily exchanged and selectively sorted based on the size of the channels of the specific type of zeolite. While natural zeolites were discovered over 250 years ago, people have only recently begun to realize the true potential and capabilities of zeolite. As a result, it has also been dubbed the mineral of the 21st century and new applications are continually being discovered around the world. Zeolite is an inorganic material that originates from volcanic ash that is spewed into the atmosphere during violent eruptions. The volcanic ash plumes often travel thousands of miles before being deposited on the earth's surface. Zeolites are often formed where volcanic rock is immersed in water.

100 % NATURAL - Meets all E.P.A. compliance's.
---
---
Turf by Design

recommends 1-2 lbs of quality infill

(ZeoFill or EnviroFill)

for all products as it will enhance the performance and appearance, especially in high traffic areas.




All grass products are available in 15' widths only unless special ordered with a minimum of 10,000 sq/ft.