Envirofill
artificial turf
infill is a non-toxic, antimicrobial, eco-friendly, impact absorbing, and completely reusable synthetic turf infill material made up of naturally occurring silica sand from the USA. With Envirofill, you can be confident that your children and pets are safe in your artificial lawn.
---
Envirofill Benefits:

---

The outdoor elements are no match for Envirofill infill, with its compression resistant round quartz core, patented coating, and Microban® antimicrobial technology infused into the artificial grass infill material during the manufacturing process. Envirofill infill locks out moisture from the outdoor turf and will not absorb water or pet waste and will help prevent the growth of mold, mildew, and bacteria that can cause odors, stains and product deterioration. Envirofill is cooler. That's right, Envirofill synthetic grass infill has been proven to lower the surface temperature of your artificial lawn up to 25% and will stand up to the harshest weather conditions.
You can always count on Envirofill synthetic turf infill to be safe, consistent, cooler, odorless, and free of bacteria. Best of all, it will make your artificial grass look and feel great!



---

How EnviroFill with Microban® Works!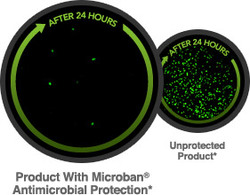 Microban® antimicrobial technology is built-in protection against microbes such as stain and odor causing bacteria, mold, and mildew. When these microbes come in contact with the Envirofill surface, Microban® protection penetrates the cell wall of the microorganism and disrupts cell functions making the microorganism unable to function, grow, and reproduce.

Working Hard to Eliminate Bacteria, Mold, and Mildew.

Did you know bacteria can double in number every 20 minutes? Envirofill with Microban® antimicrobial technology works around the clock, to protect your artificial grass and provide for an added level of safety and cleanliness protection. Microban® antimicrobial technology will always be there to protect you and your loved ones and will not wash or wear out keeping the artificial grass system cleaner, longer. Protect your family, pets and your investment with Turf by Design synthetic Grass and Envirofill.